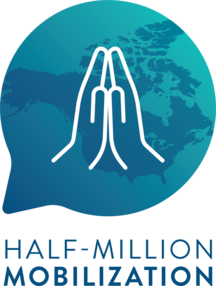 Colossians 4:2
"Devote yourselves to prayer, being watchful and thankful."
From May 1st through Pentecost (June 5th) there will be a daily time of prayer using a Praying Our Way to Pentecost prayer journal. The prayer journal is available online and in print. Plan to follow along and anticipate a great out pouring of the Spirit during this season
Each devotional includes a passage from Scripture on prayer, a short devotional centered on that passage, and a written prayer. There are reflection questions as well for those that like to write out their thoughts and prayers in the moment.

The dream with Half-Million Mobilization is that we will experience unity as a region, we will hear from the Spirit in our times of prayer, we will share with each other what the Spirit is saying, and that we will discover His plans for our hope and future.
"God does nothing but by prayer, and everything with it."
- John Wesley



FAQ
JOIN THE PRAYER MOBILIZATION BELOW